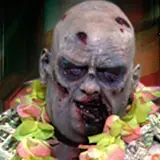 Capcom has announced a loaded Dead Rising 2: High Stakes Edition for Xbox 360 and Playstation 3 that is exclusive to Capcom's online store.
As the name implies, you'll get to experience some "high stakes" action with this gambling-centric set priced at $89.99. Included in the High Stakes edition is the following:
Dead Rising 2 Game (Xbox 360 or PS3)
Poker set in a black high-impact case sporting the Fortune City logo and including:

100 poker chips- 4 different colors featuring the Fortune City logo
2 decks of 'blood-stained' custom playing cards featuring character art
5 green dice
1 'blood-stained' dealer chip

Fortune City Visitor Map featuring the game map and ads for Fortune City locations and attractions
Terror is Reality XVII admission ticket with redemption code for the unique Psycho costume and skills downloadable content
But that's not all! Willy Wonka himself would give a thumbs up to the one lucky buyer that finds a golden Terror is Reality admission ticket in their package. That golden ticket is redeemable for a 6 foot tall Burt the Zombie Dead Rising 2 zombie replica (pending wife or girlfriend approval to display it in your home).
Click on the image below for a high-resolution look at the full set for Xbox 360 (the PS3 set looks identical with obvious logo differences). If you want to take a gamble for the golden ticket then head over to the Capcom Online Store as that's the only place it can be pre-ordered or purchased on its September 28 release date.