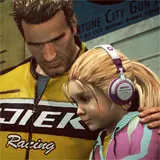 The final cover art for Capcom's Dead Rising 2 game for Xbox 360 and PS3 has been released which you can check out in its gory glory below.
Capcom has also announced www.TapeItOrDie.com, a new viral website where you can follow the exploits of Lance, Gretchen, Wallace and Johnny Pipes as they try to get tickets to the fictional Terror is Reality XVII event in the game. Promised for following along are weekly updates with an inside look into Dead Rising 2 available nowhere else.
Dead Rising 2 comes out on September 28. You can lock in a pre-order for the Xbox 360 or PS3 version at a discounted price from Amazon.com.