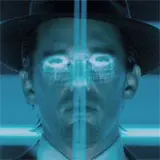 Vampires will continue to invade our lives early next year with Liongate's theatrical release of Daybreakers starring Ethan Hawke, Willem Dafoe, Isabel Lucas from Transformers: Revenge of the Fallen, Michael Dorman, Vince Colosimo and Sam Neill.
The first full Daybreakers trailer has arrived and it looks promisingly good in an Underworld sort of way. A world where vampires are the majority is a welcome diversion from typical minority vampire distributions. Sam Neill looking spooky with vampire contacts triggers all sorts of creepy Event Horizon flashbacks.
Edward Dalton is a researcher in the year 2019, in which an unknown plague has transformed the world's population into vampires. As the human population nears extinction, vampires must capture and farm every remaining human, or find a blood substitute before time runs out. However, a covert group of vampires makes a remarkable discovery, one which has the power to save the human race.
Head over to Yahoo! Movies to watch the Daybreakers trailer in high definition.