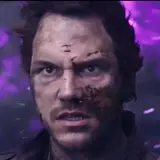 New TV spots for a pair of big summer action films have arrived online, each offering a new snippets of all-new footage not seen in any of the previously released trailers.
The first TV spot comes from Fox's Dawn of the Planet of the Apes. Its most striking new footage comes early and reveals how one of Caesar's apes hunts down and attacks a bear, presumably killing the mighty beast in order to bring food back to the apes colony. There are a couple other brief new shots in the :30-second TV spot including a massive battle between apes and humans in the remains of San Francisco.
The other TV spot is for Marvel's Guardians of the Galaxy that debuted during Game 1 of the NBA Finals. It features a couple new glimpses of Groot, Rocket Raccoon, Gamora, Drax and a freakish new shot of Star Lord.
Finally Marvel is starting to show a little connection between the other Cinematic Universe films with references to "the studio that brought you.." in this TV spot. I'd rather they be more blunt and offer something more straightforward like, "on the other side of the galaxy from The Avengers," that will make an obvious connection for general audiences otherwise turned off by a walking and talking tree and raccoon.