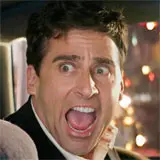 Fox is bringing the Steve Carell ('The Office') and Tina Fey ('30 Rock') comedy Date Night to Blu-ray Disc and DVD on August 10 in a new extended cut that runs 88 minutes. That happens to be the same runtime for the theatrical cut so don't expect much in the way of new footage (unless there's a typo in the press release).
Date Night was a workhorse at the box office, hanging around the top 10 for weeks and amassing over $95 million domestically. Its worldwide totals topped $146 million. The film co-stars Mark Wahlberg, James Franco, Mila Kunis, Common, Taraji Henson and Leighton Meester.
The Blu-ray edition of Date Night will be presented in 2.35:1 1080p video and 5.1 DTS-HD Master Audio. Supplemental materials are as follows:
BD Exclusive: Deleted Scenes
BD Exclusive: Extended Scenes
BD Exclusive: Disaster Dates with the Cast
BD Exclusive: Steve and Tina Camera Tests
BD Exclusive: Live Lookup
BD Exclusive: Digital Copy
Gag reel
Extended Car Chase
Directing Off Camera
Date Night PSAs (three versions)
Directing 301 with Shawn Levy
Audio Commentary with Shawn Levy
Pre-order Date Night on Blu-ray at Amazon.com.