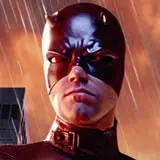 A new listing for Daredevil: Director's Cut on Blu-ray Disc has popped up over at online retailer DVDEmpire.com signaling a likely arrival for Fox's superhero flick on September 30.
The previously released Daredevil: Director's Cut DVD included 20 additional minutes, a Director's Cut commentary by Mark Steven Johnson and Ari Arad and a Making of Director's Cut featurette.
Technical specs will be issued with Fox's official announcement but a safe bet is to expect widescreen 2.35:1 1080p video and 5.1 DTS-HD Master Audio.
The September 30 date for Daredevil adds fuel to speculation Paramount's Iron Man: Special Collector's Edition will touch down the same day despite no official announcement coming from the studio. We aren't at liberty to say either way but would be surprised if Paramount didn't make the big Iron Man announcement (and likewise Fox announcing Daredevil) at San Diego Comic-Con three weeks from now.
Keep checking back at TheHDRoom for Daredevil and Iron Man official announcements, cover art, final specs and pre-order information.