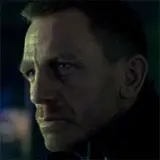 Daniel Craig has on his serious face and grasps a familiar firearm in the first official Skyfall images, the upcoming new entry in the venerable James Bond film franchise.
In the image released by Sony Pictures earlier today, Craig as James Bond has his gun drawn and appears to be on high alert. The image looks to be snapped at night in an urban setting with a lot of lit objects surrounding the British agent.
Skyfall is the 23rd James Bond film and third for Craig in the leading role following Casino Royale and Quantum of Solace. The film co-stars Javier Bardem as the main villain, Berenice Marlohe, Naomie Harris, Helen McCrory, Ralph Fiennes, Albert Finney, Ben Whishaw, and of course the wonderful Judi Dench as M.
Plot points are being kept mostly under wraps, but Skyfall is expected to delve into M's past which will come back to haunt her and Bond. The loyalty between the two co-workers will be put to the test as MI6 comes under direct attack.
Look for Daniel Craig to return Bond to the limelight in Skyfall when it hits theaters this November 9, 2012.