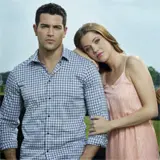 TNT is pleased enough with its pilot for a reboot/continuation of Dallas that they've gone ahead and ordered a full 10-episode order.
The new Dallas will feature stars Larry Hagman, Patrick Duffy and Linda Gray from the original 1980s soap opera that ran 14 seasons. The original's season three opener that answered the question "who shot J.R." was watched by 83 million people and to this day stands as the most-watched television episode ever.
It will be a younger cast and offspring of J.R. Ewing (John Ross played by Josh Henderson) and adopted son of Pam and Bobby Ewing (Christopher played by Jesse Metcalfe), along with Julie Gonzalo and Jordana Brewster, that are expected to carry the bulk of the load as the older generation gives way to the new. The plot revolves around a rivalry between the Ewing kids for, amongst other things, the affection of Brewster's character Elena.
Dallas is not scheduled to premiere until next summer. To coincide with the full season pickup order and help promote a pair of their original shows, TNT will preview portions of the pilot during Rizzoli & Isles and The Closer on Monday night. The network was not specific on how much of the premiere would be unveiled.
TNT has also set up a new website where sneak peeks and behind-the-scenes looks at the new Dallas will be unveiled between now and the series premiere next summer. You can visit it at www.tnt.tv/series/dallas/.
Check out a newly released cast shot from the updated Dallas below.