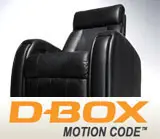 One of the biggest mysterious surrounding D-BOX Motion Control systems since they were introduced is how much do they cost and where can one be bought. I even wondered this myself when trying to track down a unit for the purpose of reviewing D-BOX Motion Code on Blu-ray Disc titles.
D-BOX is more than aware of their need to get their product out into the mainstream consumer shopping arena and is taking strides towards that in 2009. The catalyst for reaching beyond hardcore home theater afficionados is the new GPH-120 Hybrid Motion system which is on display at CES this week.
Before I get to the tech specs lets get the important information out of the way. First, this combined reclining/adjustable home theater and PC gaming chair will carry a retail price of $2,999.99. This is not cheap by any stretch of the imagination but a lot less than some guessed a complete D-BOX system would cost. Second, it will not only be available at speciality retailers but also direct at www.d-box.com. It will be available sometime in the first half of this year.
The chair includes two embedded motion actuators that deliver up to 2Gs of real-time acceleration through pitch, roll and heave movements as determined by the D-BOX engineered Motion Code attached to the game or movie on-screen at the time. The system also includes a KAI-1P USB Motion interface to connect the gaming PC or Blu-ray Disc player (or even DVD) to the chair.
Previously D-BOX announced support for EA's Need For Speed Undercover. The compatibility list has now extended to GRID (Codemasters), iRacing, Crysis Warhead (Crytek), rFactor (Image Space), Nitro Stunt Racing (GameSeed), Live For Speed, Battlefield 2 (Electronic Arts), Microsoft Flight Simulator X and X Plane 9 (Laminar Research).
In an additional CES-timed announcement, D-BOX has partnered with Mann Theaters to introduce the first commercial application for D-BOX Motion Control. Sometime in the near future, a D-BOX Motion Control system will be built into an exclusive area of theater six at Mann's Chinese Theaters. A new demo kiosk will be set up in the lobby so audiences can take D-BOX for a test ride before shelling out for a ticket to watch an entire feature with Motion Control. How much a D-BOX ticket will cost, how many chairs and the rollout date has yet to be announced.
– Dan Bradley