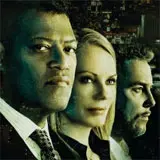 Paramount and CBS Home Entertainment surprised us this week by announcing the ninth and most recent season of CSI: Crime Scene Investigators is heading to Blu-ray Disc on September 1, day-and-date with DVD.
Earlier this year the first season of CSI debuted on Blu-ray with the first-ever widescreen presentation of the season on home video. I had expected CBS to release season two next so we'll have to sit tight and see what future plans CBS and Paramount have for filling in seasons two through eight.
All 24 episodes from season nine, which includes the big transition from William Petersen to Laurence Fishburne, will span six Blu-ray discs. Video presentation will be 1.78:1 1080p while audio should be 7.1 Dolby TrueHD (unconfirmed at this time.)
I'll pass along additional CSI: Season Nine information including bonus features and high-res cover art as soon as they are available. In the meantime, Amazon.com has begun taking pre-orders for the set at $62.99, 30% off the $89.99 list price.
Click here to pre-order CSI: Season Nine on Blu-ray at Amazon.