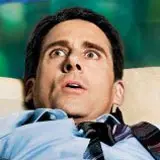 The ensemble comedy Crazy, Stupid, Love featuring Steve Carell, Ryan Gosling, Julianne Moore, Emma Stone, Marisa Tomei and Kevin Bacon is coming to a Blu-ray and DVD combo pack release on November 1.
Crazy, Stupid, Love was a late summer release on July 29 featuring Carell in his first big theatrical role since signing off from NBC's The Office. Produced for $50 million, the film went on to earn just under $100 million at the worldwide box office.
Details are still sparse on the Crazy, Stupid, Love Blu-ray bonus features. There will be deleted scenes, but that's the only supplement confirmed at this time.
Click here to pre-order Crazy, Stupid, Love on Blu-ray for $24.99 at Amazon.com, 31% off the $35.99 list price.