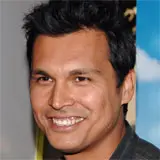 Adam Beach has joined the cast of Jon Favreau's Cowboys and Aliens, per Variety.
Beach will play Nat Colorado, a half-Apache who works for and likely rides alongside Harrison Ford as Woodrow Dollarhyde against alien invaders. The cast also includes Olivia Wilde (Tron Legacy), Sam Rockwell (Iron Man 2) and Paul Dano.
You may have seen Beach recently in HBO's Big Love. He also appeared in Clint Eastwood's Flags of Our Fathers, Windtalkers and Law & Order: Special Victims Unit, amongst other roles.
Pre-production is well underway on Cowboys and Aliens with Favreau expected to shoot his first scenes later this summer. Cowboys and Aliens is due in theaters on July 29, 2011.