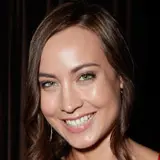 Courtney Ford, who held a supporting role during the fourth season of Showtime's Dexter and a brief stint on The Vampire Diaries, has joined HBO's True Blood in a recurring role for that show's upcoming fourth season.
According to Deadline, Courtney will play a southern beauty named Portia Bellefleur, sister of Bon Temps bumbling police detective Andy. She'll run her own law firm but there's no word yet on how she'll become tied into the True Blood supernatural happenings.
Courtney joins Fiona Shaw as the second new actress brought on board True Blood. Shaw will play a palm reader whose body is taken over by a witch.