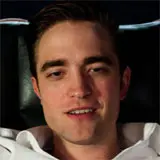 Robert Pattinson took a big step away from his heartthrob Twilight image by starring in David Cronenberg's gritty theatrical adaptation of Cosmopolis, a film you will be able to own in your home early next year.
Online retailer Amazon.com has begun taking orders for Cosmopolis on Blu-ray and DVD with a release date of January 1, 2013. New Year's Day falls on a Tuesday, the traditional release date for new home video titles, so please don't think the Cosmopolis release date is a typo.
Cosmopolis saw a very limited domestic theatrical release from Entertainment One and did not reach $1 million in ticket sales as a result. It was given more of a chance overseas where the film earned $5.3 million. Its worldwide ticket sales are just over $6 million. Pattinson's Twilight Saga fame should help drive home video sales despite the film's dark subject matter.
Joining Robert Pattinson in Cosmopolis are Juliette Binoche, Jay Baruchel, Samantha Morton, Paul Giamatti, and Kevin Durand.
I've included the Cosmopolis Blu-ray cover art and the U.K. theatrical teaser trailer below.
Click here to pre-order Cosmopolis on Blu-ray for $20.99 at Amazon, 30 percent off the $29.98 list price.