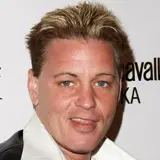 Actor Corey Haim died this morning in Los Angeles as first reported by TMZ.
The actor was rushed to the hospital after his mother discovered him passed out from an apparent drug overdose. She told authorities he has been struggling with a prescription drug addiction for years.
Haim is best known for his co-starring role in The Lost Boys alongside Corey Feldman. He also starred in License to Drive before fading out of the limelight only to reappear in smaller roles or alongside Feldman in 'The Two Coreys' reality show.
The apartment complex where Haim was living with his mother is where Rick James died in 2004. Corey Haim was 38.