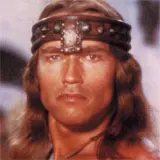 With Lionsgate releasing the Conan the Barbarian remake starring Jason Momoa in the role that helped shape the career of Arnold Schwarzenegger back in the early 1980s this fall, you just knew Universal would not pass up on the opportunity to bring both original Conan films to Blu-ray at the same time.
Universal has officially announced that John Milius' 1982 Conan the Barbarian and the 1984 sequel Conan the Destroyer will make their Blu-ray debuts on August 2. Each will be presented in 1080p video and 5.1 DTS-HD Master Audio and will hopefully look better than they ever have before.
It looks like only Conan the Barbarian will include bonus features, all of which are broken out below and followed by the Blu-ray cover art. I'll update this article should Conan the Destroyer extras be revealed.
Conan the Barbarian
Feature Commentary with Director John Milius and Arnold Schwarzenegger
Conan Unchained: The Making of Conan
Art of Steel: Sword Makers and Masters
Conan: From the Vault
Special Effects
The Conan Archives
Click here to pre-order Conan the Barbarian on Blu-ray for $18.99 at Amazon.com.
Click here to pre-order Conan the Destroyer on Blu-ray for $18.99 at Amazon.com.