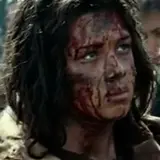 Lionsgate's updated Conan The Barbarian is bringing barrels of blood with it. The latest evidence of how gruesome the film is comes from a new extended red-band clip that shows Conan in his early years.
From what can be inferred from the clip, kids in Conan's tribe must complete a journey through treacherous woods and the first to return with a small egg still intact in his mouth to Corin (Ron Perlman) is on his way to becoming a true warrior.
Young Conan (Leo Howard) is a little late arriving to the event, but also the only one who doesn't run when barbaric warriors appear in the forest. Conan takes on the warriors and course wins, delivering the eggs and a couple other presents back to Corin with a little attitude.
Conan The Barbarian is directed by Marcus Nispel and stars Jason Momoa as adult Conan, along with Rose McGowan, Stephen Lang, Ron Perlman, GI Joe actors Saïd Taghmaoui and Rachel Nichols, as well as Bob Sapp and Leo Howard. Look for it in theaters on August 19.