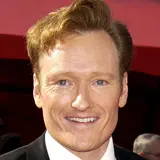 Conan O'Brien's premiere episode of 'Conan' was expected to open with big ratings after a long summer of Twitter promotion and did just that, grabbing a strong 4.2 million viewers and impressive 3.3 million in the advertiser friendly 18-49 demographic. TBS' 'Lopez Tonight,' bumped back to make room for 'Conan,' benefited from the lead-in with its highest viewership ever of 1.4 million.
'Conan' was able to top David Letterman's 'Late Night' and Jay Leno's 'The Tonight Show's' ratings thanks to the hype build up and perhaps starting a half-hour before those shows. Leno managed 3.5 million total viewers while Letterman came in at 3.4 million. The 18-49 numbers for those big network shows barely registered at around 1 million each.
The most amazing statistic for 'Conan' is the average viewer age of 30. In comparison, Letterman viewers average 53 while Leno is way up there at 59. O'Brien successfully tapped into America's youth and pulled them into the late night talk show circus, a feat distant competitors The Daily Show and Colbert Report have not had as much success at.
Conan O'Brien's biggest challenge now is to mostly sustain those big premiere ratings and avoid a big drop-off to the Colbert and Daily Show levels as the novelty wears off.
Source: Deadline