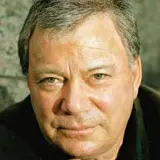 On Friday, Comic-Con will play host to a Star Trek-themed panel in which former captains William Shatner and Avery Brooks will sit down with moderator Kevin Smith (yes, that Kevin Smith) to talk about Shatner's new upcoming documentary with Epix Pictures, The Captains.
Unlike most Comic-Con panels which are exclusive to those brave enough to stand in line hours in advance, this panel will be streamed live online. Better yet, immediately at the conclusion of the panel, you'll be able to watch The Captains online, in its entirety, for free via EpixHD in the same video window.
I've embedded the video player where this will all happen this Friday, July 22 at 6pm EST/3pm PST below. Bookmark this page and check back then to watch The Captains panel followed immediately by the film.