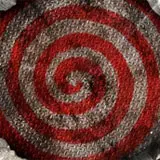 New posters are the flavor of the day at Comic-Con's preview night. In addition to the Nightmare on Elm Street poster revealed earlier this evening, here are three additional posters debuting today.
The first poster for Martin Scorsese's Shutter Island starring Leonardo DiCaprio, Mark Ruffalo, Ben Kingsley, and Michelle Williams comes courtesy of Yahoo! Movies.
Next up is Lionsgate's Saw VI which first appeared at Bloody Disgusting. The anticipation for creatively wicked new Saw posters is always warranted. In fact, Lionsgate didn't even both putting the word "Saw" on it. You just know.
Lastly is a large banner with Megan Fox and Josh Brolin for Jonah Hex as seen hanging in Comic-Con's rafters and snapped by Shock Till You Drop. The funny thing is Megan's role in the film is supposed to be small yet she's mugging most of the poster's real estate. Never underestimate the power of good looks, especially those that attract fanboys.