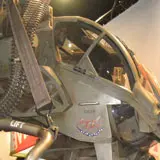 James Cameron's Avatar has hit Comic-Con in a big way starting with the unveiling of Mattel's upcoming toy line based on the film and culminating in a panel where the first footage will be released to the public.
The gang over at MarketSaw hightailed it to the Mattel booth last night and snapped some images of the Avatar toy line that reveal several characters and Na'vi creatures for the first time. There's also the practical full-size prop of an "Amp Suit" that should look spectacular on screen. I've included several of the images below but more can be seen by visiting MarketSaw.
Meanwhile over at USA Today, Cameron fired back when asked if he was going to reveal the secrets of how Avatar was made on the Blu-ray Disc and DVD releases. "You're not going to find 'behind the scenes' extras on the DVD," Cameron said. "I think the movies aren't the big, wonderful mysteries they used to be. I don't want to see some guy in a black leotard and dots showing me how he made himself look like an animal." The man has a point, though I think a Cameron commentary track to discuss the 3D technology would be much appreciated.
How psyched are you for Avatar? More so than established franchise films like Iron Man 2?