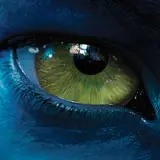 Yesterday at Comic-Con, James Cameron brought the house down when he unveiled Avatar to the public for the first time. Along with the reveal comes some new information about the film you won't want to miss.
First, Fox has launched the official Avatar website at http://www.avatarmovie.com where you can sign up for Avatar updates. The site is still in an early phase so there isn't much to look at per se, but it does proclaim August 21 is official "Avatar Day" when approximately 15 minutes worth of scenes from the film will be screened in select theaters and on IMAX for FREE. I anxiously await the list of theaters to be released along with all of you.
Fox also released the key art for the Avatar Comic-Con banner hanging in the streets of San Diego. The original was in super high resolution so I am passing it along in an appropriately gigantic size which you can view by clicking it below. Also note the original was only half of the Na'vi face so what you are seeing below mirror's that half to give an approximation of a complete face.
Here is the new official Avatar synopsis: Avatar is the story of an ex-Marine who finds himself thrust into hostilities on an alien planet filled with exotic life forms. As an Avatar, a human mind in an alien body, he finds himself torn between two worlds, in a desperate fight for his own survival and that of the indigenous people. More than ten years in the making, Avatar marks Cameron's return to feature directing since helming 1997's Titanic, the highest grossing film of all time and winner of eleven Oscars® including Best Picture. WETA Digital, renowned for its work in The Lord of the Rings Trilogy and King Kong, will incorporate new intuitive CGI technologies to transform the environments and characters into photorealistic 3D imagery that will transport the audience into the alien world rich with imaginative vistas, creatures and characters.