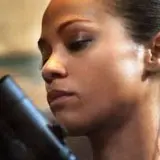 The Zoe Saldana (Star Trek) action vehicle Colombiana is coming to Blu-ray and DVD on December 20, 2011 in a new unrated cut.
Directed by Olivier Megaton (Transporter 3) and written by Luc Besson, Colombiana was a late summer theatrical release on August 26. It opened softly with $10.4 million through the first three days in theaters, and ended up making around $36.4 million ahead of its move to home video.
The unrated cut of Colombiana runs 111 minutes, four minutes longer than the theatrical cut. The Blu-ray edition will be presented in 1080 video and 5.1 DTS-HD Master Audio, include UltraViolet for streaming the film from the cloud, as well as these bonus features:
Colombiana: The Making of
Cateleya's Journey
BD Exclusive: Assassins
BD Exclusive: Training a Killer
BD Exclusive: Take the Ride
Check out the Colombiana theatrical trailer and Blu-ray cover art below.