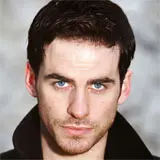 Colin O'Donoghue may swap a hand for hardware in his next role as villainous Captain Hook, but he'll gain legions upon legions of new fans by joining ABC's Sunday night fairytale success Once Upon A Time.
The Captain Hook countdown began at Comic-Con last month when Once Upon A Time showrunners Adam Horowitz and Edward Kitsis teased the new character as a Season 2 addition, but stopped short of saying who might nab the part. After a few tick-tocks of the clock, they have found their Captain Hook in O'Donoghue.
O'Donoghue has film and television experience in his roughly decade-long career. He starred in The Rite with Anthony Hopkins, appeared in an episode of Showtime's The Tudors, and most recently starred in the sci-fi film Storage 24.
O'Donoghue's ties to ABC date back to last year when he starred in a pilot for Identity. The pilot was never picked up to series, which opened up O'Donoghue's schedule for his recent film roles and, as of now, Once Upon A Time.
The television depiction of Captain Hook in Once Upon A Time is said to present a man with "meticulous style and manners," but also someone who will "never back down from a fight… and seeks to crush and humiliate his enemies." He sounds like the kind of villain that fans will hate to love and love to hate.
Colin O'Donoghue joins Sarah Bolger as a newcomer in Once Upon a Time: Season 2. Bolger was cast as Sleeping Beauty in early July. Jamie Chung also gets to play a Disney-inspired character in Season 2 as the warrior Mulan.
Once Upon a Time: Season 2 will premiere on September 30, 2012. Season 1 is coming to Blu-ray and DVD on August 28.
Source: EW