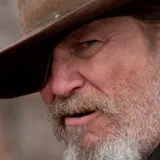 Joel and Ethan Coen's remake of True Grit that earned Best Picture, Best Actor for Jeff Bridges and Best Supporting Actress for Hailee Steinfeld nods at the Academy Awards has been given a June 7 release date on Blu-ray and DVD combo format by Paramount Home Entertainment. The original True Grit starring John Wayne is already available on Blu-ray.
Paramount is presenting the new True Grit on Blu-ray, which also co-stars Matt Damon, in 1080p video and 5.1 DTS HD Master Audio. It will feature over an hour of bonus features that covers the inspiration and making of the film.
Roughly half of the supplemental features are exclusive to Blu-ray as noted:
Mattie's True Grit
From Bustles to Buckskin—Dressing for the 1880s
BD Exclusive: Colts, Winchesters & Remingtons: The Guns of a Post-Civil War Western
Re-Creating Fort Smith
The Cast
BD Exclusive: Charles Portis—The Greatest Writer You've Never Heard Of…
BD Exclusive: The Cinematography of True Grit
BD Exclusive: Theatrical Trailer
Click here to pre-order True Grit (2010) on Blu-ray for $27.99 at Amazon.com (30% off the $39.99 list price).