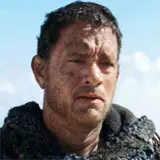 Update: Warner Bros. Home Entertainment has alerted us that this early Cloud Atlas Blu-ray release date is incorrect and a new date will be issued in the near future. We will, of course, pass along the finalized Cloud Atlas Blu-ray release date once it is available.
Original article: Cloud Atlas, the divisive film from Andy Wachowski, Lana Wachowski, and Tom Tykwer, based on the novel by David Mitchell, is slated for a February 5, 2013 release date on Blu-ray and DVD per online retailer Amazon.com.
Warner Home Video has yet to formally announce the home video release of Cloud Atlas, but it is expected to be made in the very near future. We will share all the details surrounding the Cloud Atlas Blu-ray starring Tom Hanks and Halle Berry when they are available.
In the meantime, you can pre-order Cloud Atlas on Blu-ray for $25.19, or 30% off the list price, right here at Amazon.com.