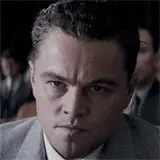 Clint Eastwood's J. Edgar starring Leonardo DiCaprio, Naomi Watts, Armie Hammer and Judi Dench will make its Blu-ray and DVD debut on February 21.
Warner Home Video officially announced the J. Edgar home video release today, but did not provide a list of bonus features. The J. Edgar Blu-ray release will be a combo pack with DVD and an UltraViolet copy, with the film being presented in high definition at 1080p video and 5.1 DTS-HD Master Audio.
Click here to pre-order J. Edgar on Blu-ray for $24.99 at Amazon.com, 31 percent off the $35.99 list price. Check out the J. Edgar theatrical trailer and Blu-ray cover art below.