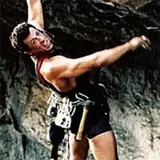 Sony Pictures Home Entertainment are bringing Sylvester Stallone and Arnold Schwarzenegger to Blu-ray Disc on January 12 with the release of Cliffhanger and Last Action Hero.
Each film will be offered in its original aspect ratio at 1080p resolution wtih 5.1 DTS-HD Master Audio.
Last Action Hero will be bare bones save for Sony's movieIQ BD-Live feature that will also appear on Cliffhanger. Sly's mountainous adventure will also come packed with a slew of additional bonus features.
Commentary with Director Renny Harlin and Sylvester Stallone
Technical Crew Commentary
A Personal Introduction from Renny Harlin
Deleted Scenes
Stallone on the Edge: The Making of Cliffhanger
Special Effects Featurettes
Storyboard Comparisons
Original Theatrical Trailer
Introduction to the Deleted Scenes with Renny Harlin
Each title carries an SRP of $24.95 with cover art expected to be available soon.
Click here to pre-order Cliffhanger on Blu-ray for $17.49 at Amazon.com.
Click here to pre-order Last Action Hero on Blu-ray for $17.49 at Amazon.com.