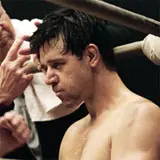 The Ron Howard boxing drama Cinderella Man staring Russell Crowe has been cleared for a Blu-ray Disc release on March 26.
Cinderella Man was previously available exclusively on HD DVD during the high-def format wars. This upcoming Blu-ray Disc release marks its first appearance on the winning format.
Tech specs include a 2.35:1 1080p transfer, likely identical to the HD DVD transfer, and a new 5.1 DTS-HD Master Audio mix.
Bonus features are virtually identical to the HD DVD version with the exception of BD-Live functionality.
User Guides – My Scenes, Registration, BD Live
BD-Live – My Scenes Sharing
Feature Commentary with Director Ron Howard
Feature Commentary with Writer Akiva Goldsman
Feature Commentary with Writer Cliff Hollingsworth
Deleted Scenes with Optional Commentary
The Fight Card: Casting Cinderella Man
For the Record: A History in Boxing
Ringside Seats
Jim Braddock: The Friends & Family Behind The Legend
Pre-Fight Preparations
Lights, Camera, Action: The Fight From Every Angle
Braddock Vs. Baer Fight Footage
Photo Montage
The Sound Of The Bell
Cinderella Man Music Featurette
The Human Face of the Depression
Russell Crowe's Personal Journey: Becoming Jim Braddock
Look for Cinderella Man to be priced around $21 at Amazon.com based on its $29.98 SRP. We'll pass along that pre-order link and cover art once Amazon and Universal make them available.