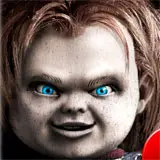 Chucky means business in the latest Child's Play sequel heading to Blu-ray and DVD on October 8, the direct-to-video release Curse of Chucky. Wanna play? Then please read on for the details.
Just when you thought the most infamous homicidal doll was ready to hang up his knife, Chucky is back for a new bout of terror that reunites Child's Play creators Don Mancini and David Kirschner. Joining Brad Dourif as the voice of Chucky and offering meaty targets for Chucky to tear apart are Fiona Dourif, A Martinez, Danielle Bisutti and Brennan Elliott.
Curse of Chucky is an unrated release on Blu-ray and DVD combo that will be presented in 1.78:1 1080p video and 5.1 DTS-HD Master Audio. Universal is packing a nice selection of bonus features onto the disc including the following:
Living Doll: Bringing Chucky to Life (Blu-ray Exclusive): Featuring the award-winning work of animatronics company Alterian, this featurette shows the pain-staking detail involved with bringing Chucky to life and the army of people behind the process.
Voodoo Doll: The Chucky Legacy (Blu-ray Exclusive): More than six films and a quarter of a century, Chucky, the possessed Good Guys doll, has been the playmate we love to hate. This featurette looks at why we're still frightened by the red haired terror and recalls some favorite moments from the previous films.
Storyboard Comparisons (Blu-ray Exclusive)
Deleted Scenes
Gag Reel
Playing with Dolls: The Making of Curse of Chucky: From scripting, to casting to shooting, this featurette proves that playing with dolls is definitely not child's play! Follow the cast and crew of Curse of Chucky as they bring the newest and scariest chapter in the series to the screen.
Feature Commentary with Director Don Mancini, Puppeteer Tony Gardner and Star Fiona Dourif
Universal is using the arrival of a new Child's Play film to package all five franchise entries into a single Blu-ray box set, Chucky: The Complete Collection Limited Edition. This set is packed with bonus features from each film as well. Pre-order Chucky: The Complete Collection on Blu-ray at Amazon.com.
Watch the Curse of Chucky trailer below, then pre-order the Blu-ray and DVD combo at Amazon.com.