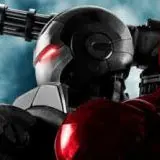 Don Cheadle will be making a big mark in Marvel's film universe when he takes over the role of Lt. James 'Rhodey' Rhodes and dons the armor of War Machine in Iron Man 2 alongside Robert Downey Jr.
Wizard magazine has published an interview with Cheadle and bluntly asked him if the War Machine character would spin off into its own franchise. His response comes off as a bit presumptuous.
"People have asked but no one [in authority] has mentioned it as something that's happening," Cheadle responded. "Hopefully, if this one does well, there'll be another [Iron Man film] with the same people. But there won't be a [War Machine] spin-off."
Before anyone gets excited about Iron Man 3 please take a step back. Even if Iron Man 2 does monster business, which it should, there is no guarantee Marvel will not explore every avenue to make more cash – including a War Machine spin-off. I'm thinking Cheadle is speaking prematurely to write off the possibility so early in the game.