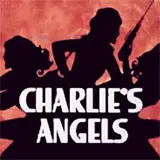 Charlie's Angels could be returning to the big screen with ABC on the verge of ordering a pilot.
Variety is reporting Josh Friedman, the man behind Fox's terminated Sarah Connor Chronicles Terminator television series, is on board to produce and script the new Charlie's Angels. Original Angels producer Leonard Goldberg and Drew Barrymore, co-star of the 2000 film version, are also attached to produce.
Why Charlie's Angels and why now? Aaron Spelling originally tried to revive Charlie's Angels on the small screen in 1988 in a new series called "Angels 88." That series never got off the ground. Lost's Carlton Cuse and John Wirth also took a shot at an Angels pilot in 2004 but that also never made it past words on a page despite interest in the franchise continuing to linger.
The success of ABC's V, which has been mostly attributed to recognition of the original series, has the studio hoping for similar returns from Charlie's Angels even as CW sees mixed results from its revival of 90210 and Melrose Place. Like V, Angels is "expected to be geared toward a new generation while paying homage to the past."
In order to succeed, Friedman and his team will have to start by landing the absolute perfect cast as memorable as Kelly Garrett (Jaclyn Smith), Farrah Fawcett and Kate Jackson. Share your ideas in the Comments section below.