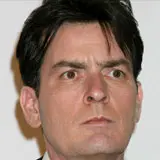 Charlie Sheen's Anger Management sitcom pitch has found a home at FX and will begin airing its first episodes in the summer of 2012.
Sheen and his team has spent the last several weeks pitching the show idea to various networks in hopes of landing a deal that would get the series in viewers homes by next year. Reports suggest at least three networks put in a bid, and FX's parent News Corp. came out on top.
Part of the reason for News Corp. heavily pursuing Sheen is they have already heavily invested in syndication of Two and a Half Men reruns. There is also already a relationship between News Corp. and Debmar Mercury, the Anger Management distributor.
FX is expected to air Two and a Half Men and Anger Management back-to-back for a full dose of Charlie Sheen next summer. An initial 10 episodes will be produced, and if those fare well ratings-wise, another 90 could be ordered. Scripts have not yet been written.
In addition to Sheen, the Anger Management team includes Mark Burg, showrunner Bruce Helford, Joe Roth, and Debmar's Ira Bernstein and Mort Marcus. They're expected to begin work on the series immediately.
Anger Management is loosely based off the concept introduced in the 2003 comedy film of the same name starring Adam Sandler and Jack Nicholson. No one other than Charlie Sheen has been cast as of yet.
Source: THR