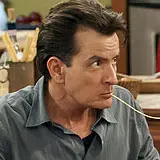 Charlie Sheen is on the cusp of having a lot more Anger Management to deal with in the near future.
Lionsgate CEO Jon Feltheimer and President of the Lionsgate Television Group Kevin Beggs announced to investors on Friday that the studio is anticipating FX Networks to pull the trigger on an additional 90 episodes of Sheen's new comedy Anger Management. Once it is determined that a specific average audience-per-episode target is met for Season 1, which wraps up on August 23 with the season finale 'Charlie Gets Romantic,' FX will have the green light to place the order.
With Season 1 including 10 episodes and the expected order to be 90 additional episodes, Anger Management is on the verge of being ready for syndication. Early syndication talks are apparently already underway with foreign distributors.
Beggs and the Lionsgate brass have a plan in place to produce roughly 40 new episodes of Anger Management per year, and have writers currently working on Season 2 to be ready for a September start date. If FX places the order, Lionsgate will have new episodes ready to air as early as January 2013.
What's unclear at this time is how many episodes of Anger Management FX would air per year. If Lionsgate can produce 40, that's far more than the typical annual allotment for a series. There is the possibility that Anger Management would be permanently split into winter and summer seasons to give viewers a double dose of Charlie Sheen each year.
Source: THR