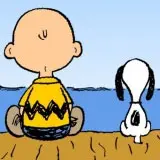 The Charles Schulz Peanuts gang lead by Charlie Brown will be coming to the big screen on November 25, 2015, the 50th anniversary of A Charlie Brown Christmas and 65th anniversary of the original Peanuts comic strip.
Earlier today Fox closed a deal with the Schulz estate and Peanuts Worldwide for movie rights to the Peanuts brand. Steve Martino is already on board to direct the film that will be animated by Ice Age creators Blue Sky Studios. Martino has previously directed Ice Age: Continental Drift and Dr. Seuss' Horton Hears a Who!.
The deal between Fox and the Schulz family has reportedly been in the works for close to two years. A script has already been written by Charles' son Craig Schulz, his grandson Bryan Schulz, and Cornelius Uliano. Plot details are being kept under wraps.
It could be frightening to see how Blue Sky Studios chooses to animate Peanuts in a major theatrical motion picture. The iconic cartoon has always been drawn in a flat two-dimensional style, quite unlike Blue Sky's more three-dimensional CGI characters and worlds. They will undoubtedly upgrade the characters for modern audiences, and the first images of completed CGI models are sure to be scrutinized the moment they leak or are released on the web.
Considering the Peanuts film is over three years away from release, don't expect to see any visual sneak peeks for at least another year.
Source: Deadline