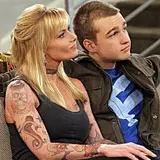 CBS has officially ordered an eleventh season of Two and a Half Men with Jon Cryer and Ashton Kutcher returning as series regulars. Angus T. Jones will not be returning as a regular and is currently negotiating with the network to recur throughout the season.
The future of Jones in the sitcom was called into question when the actor publicly lashed out against the show by calling it "filth" amongst other choice words. He eventually followed up with a public apology and also expressed interest in attending college which would not leave enough time to work on the series full-time.
Stars Cryer and Kutcher have signed one-year deals for Season 11 which indicates CBS is taking a one season at a time approach rather than committing to multiple years at once. The rumored per episode paycheck for Kutcher is a cool $700,000.
Season 10 saw CBS move Two and a Half Men to Thursday from Monday where ratings held up enough to warrant the renewal. Last season also marked the first Emmy win for John Cryer as Best Lead Actor in a Comedy Series. He previously won as a Supporting Actor when Charlie Sheen was considered the lead.
New episodes of Two and a Half Men will arrive on the air this fall at 8:30/7:30c on CBS Thursday nights.
Source: THR