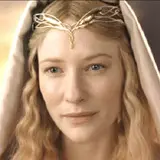 Cate Blanchett will don pointy ears again in surprisingly reprising her role as Galadriel from The Lord of the Rings trilogy in Peter Jackson's two The Hobbit films, Deadline reports. The character did not appear in The Hobbit books but Jackson felt strongly enough about her to write her into the story.
Also joining The Hobbit cast today as dwarves are Ken Stott (Charlie Wilson's War) as Lord Balin, Jed Brophy (The Lord of the Rings) as Nori, and William Kircher as Bifur. Sylvester McCoy (Dr. Who) will portray the wizard Radagast the Brown, Mikael Persbrandt (Day and Night) will blur his body as the shape-shifter Beorn, and Ryan Gage (Outlaw) is set as Drogo Baggins.
These new actors join Martin Freeman (BBC's The Office) as Bilbo Baggins, Ian McKellen reprising his role as Galdalf and – though unconfirmed but anticipated – Andy Serkis creating the movements for Gollum.
Production on The Hobbit films will get underway in New Zealand this upcoming February.