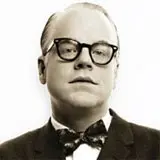 Sony Pictures Home Entertainment has cleverly put together the ultimate Capote-related double-feature for Blu-ray Disc.
In a single package, Sony will offer the 1967 classic In Cold Blood, based on the novelization written by Truman Capote, as well as the 2005 biographical film, Capote. The latter chronicles the period in Capote's life in which he was performing research for In Cold Blood and fell in love with one of the killers he interviewed.
Sony has yet to reveal any information about this double-feature so we don't know about any extras or tech specs. Once that information comes down the pipe we'll pass it along to you.
The Capote and In Cold Blood Blu-ray double-feature is now available at Amazon.com for $38.49, a 30% savings off the $54.95 list price. Click here for ordering information.