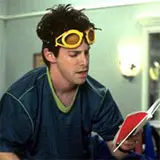 Sony Pictures Home Entertainment has announced a new 10 Year Reunion Edition of Can't Hardly Wait is coming to Blu-ray Disc on September 30, day-and-date with DVD.
Ironically and completely coincidentally we had selected Jennifer Love Hewitt, the girl Ethan Embry lusts after in the film, for Blu-ray Rise and Shine honors (view here) just a few short hours ago.
Can't Hardly Wait on Blu-ray will be presented in widescreen 1.85:1 1080p video and 5.1 Dolby TrueHD audio.
Extra features are headlined by an all-new cast and filmmakers commentary to supplement the original commentary from 10 years ago. The remaining extras, including BD-Live functionality tied into a game, are as follows.
Original Commentary with Filmmakers and Cast
Commentary with Filmmakers and Cast -10 Years Later including Deborah Kaplan, Harry Elfont, Seth Green, Donald Faison, Joel McHaley,

and Peter Facinelli

Huntington High Class of '98 Reunion Featurette
Can't Hardly Wait: The Making of a Teen Classic featurette: behind the scenes recap with the cast, crew, and filmmakers
The Life of the Party Featurette: Directors/Writers Harry Elfont & Deborah Kaplan and the cast talk about what it takes to make a good party and it what it means to the teen movie
Deleted Scenes
You Know You're '90's If… Trivia Game (2-player capability with BD-Live)
Can't Get Enough Of You Baby Music Video by Smash Mouth
Special K's 411 Track Yo': Fun facts and trivia that will play throughout the movie
Can't Hardly Wait on Blu-ray will carry an SRP of $28.95. Check back regularly for high resolution cover art.
Click here to pre-order Can't Hardly Wait on Blu-ray for $19.95 from Amazon.com.