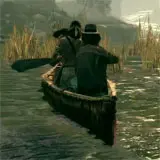 Ubisoft has release a new "Rides" trailer to coincide with the June 30 release of Call of Juarez: Bound in Blood on PS3, Xbox 360 and PC.
The trailer takes a tour through the various rides you'll encounter playing through the old west story either directly or indirectly. Canoes, stagecoaches and horses can all be ridden and fired from with your six shooters, rifle or shotgun.
Call of Juarez: Bound in Blood is the prequel to the Wild West action shooter Call of Juarez. As the McCall brothers, players enter a doomed quest for the legendary Gold of Juarez leading them from a ravaged Georgia during the Civil War to the Aztec ruins of Mexico. They make their lawless trail into the wildest West ever depicted, using their gun-slinging skills and killing all of those that stand before them. But when the brothers face lust, their bond of blood feels thinner than ever.
Check out the age-gated trailer below and keep this game on your radar. The original was an unexpected blast and nothing less is expected from the sequel.