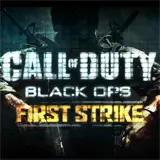 Activision and Treyarch have taken the wraps off the first downloadable content pack for Call of Duty: Black Ops via a new trailer that details four of the five new multiplayer maps. This DLC, titled 'First Strike,' is a pretty big deal considering the game has sold over $1 billion worth of copies on Xbox 360, PS3 and the PC since its launch in November, 2010.
In the trailer which you can watch past the age-gate below, Treyarch introduces each of the new map packs and discusses which types of players are likely to enjoy each the most. The map not previewed, 'Ascension,' is the lone zombie mode entry. That one will likely remain under wraps up until release.
The other maps include Kowloon, a Hong Kong level with many buildings and the only new map featuring the zipline that will get you across the map quickly but leave you vulnerable to enemy fire. Discovery is set in the arctic where two installations are set apart by a long chasm with exposed bridges. These ice bridges can be destroyed with explosives.
Berlin Wall features a central open area that gets you across the map quickly. This shortcut is wide open and susceptible to sniper fire. In Stadium close-quarters combat is the game meaning you'd best bring your reflexes to succeed. The stadium aspect refers to a hockey rink whose rink will likely be accessible.
'First Strike' will be available exclusively at first on Xbox 360 beginning February 1 at a cost of 1,200 Microsoft Points (i.e. around $15). There's currently no indication on when the exclusive Xbox 360 window will close and PS3 and PC owners will get a shot.
For Xbox 360 Call of Duty: Black Ops owners, you're bound to get a lot of bang for your $15 bucks based on what the trailer below reveals.