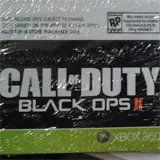 This Tuesday during the NBA Playoffs, Activision will air a television spot that will reveal the next title in the Call of Duty franchise. Thanks to Target, we already know not only the game's name is Black Ops 2, but we know the exact day it will be available as well as the logo design.
Call of Duty: Black Ops 2 will be available on November 13, 2012 for Xbox 360, Playstation 3 and the PC. The Target pre-order reservation cards only confirm the former two systems, but a PC release is a given considering the franchise's history.
The Black Ops games are developed by Treyarch and are not affiliated with the Modern Warfare games save for both having Call of Duty in the title. Black Ops 2 is suspected of taking place in the future and featuring some high-tech weaponry including small controllable drone craft. In keeping with the previous Treyarch Call of Duty games, Black Ops 2 should feature fan-favorite zombie modes.
We'll be back on Tuesday with the Call of Duty: Black Ops 2 reveal trailer and pre-order information unless something else leaks between now and then.
Source: IGN