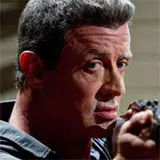 Warner Home Video have chosen July 16 to release the 2013 action thriller Bullet to the Head starring Sylvester Stallone on Blu-ray, DVD and Digital HD.
Bullet to the Head opened in mid-March and failed to gain any momentum at the box office, earning only $9.5 million to date. The film co-stars Sung Kang, Jason Momoa and Christian Slater.
Warner is releasing Bullet to the Head on Blu-ray in a combo pack configuration that also includes DVD and UltraViolet. The lone bonus features is:
Bullet to the Head: Mayhem Inc.: Get ripped with Sylvester Stallone as he blasts his way through gun training and action choreography as he preps for a bone-crushing axe fight.
Below is a Bullet to the Head TV spot as well as the Blu-ray front and back covers.
Click here to pre-order Bullet to the Head on Blu-ray and DVD combo for $25.19 at Amazon.com, 30% off the $35.99 list price.