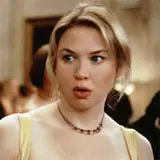 Bridget Jones' inability to find and keep a man will return for third go-around according to a report at Variety.
Working Title is currently in the early stages of development of what would be the third entry in the Bridget Jones film series. Star Renee Zellweger is already attached to the project.
Where can Bridget take her self loathing ways now? The rumor is the film will follow author Helen Fielding's 2005 column in the Independent where an aging Bridget, now in her 40s, pressures herself into trying to have a baby before her biological clock runs out of batteries. Sounds like the last five years of Jennifer Aniston tabloid reports.
Production is not expected to begin until late next year which would put an estimated release time frame in late 2011. That leaves plenty of time for Renee to eat herself back into Bridget shape.