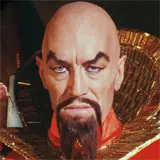 A timely update on the new Flash Gordon movie has arrived after the 1980 sci-fi camp classic made its Blu-ray debut this past week.
Director Breck Eisner (The Crazies) spoke to FEARnet recently about numerous topics including Flash. "Flash Gordon is a total passion project for me," he said. "We've just extended the option and the studio's very committed in trying to make it happen. It's just a gigantic 3D experience with years of prep, it's one of those movies you get once in a lifetime to make and for me it's been a passion of mine since I was a kid."
Eisner has multiple projects on his plate right now. In addition to Flash he's working Escape From New York and Blood of the Innocent. Escape is expected to be the next film he puts out but Flash could come next, depending on how well the development process flows. He's already hard at work on it.
"If I could pick and just control everything I would love to make Flash Gordon, it's really kind of my dream job," Eisner added. But it's multi-year, in terms of writing and designing."