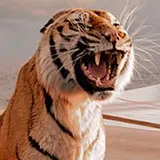 North American moviegoers gorged on a crowded field of films both old and new this holiday weekend as blockbuster hits such as The Twilight Saga: Breaking Dawn Part 2 behind Kristen Stewart and Robert Pattinson, Skyfall and Lincoln were joined by solid debuts from Life of Pi and Rise of the Guardians. The long-delayed Red Dawn remake opened to moderate numbers as well. While the top ten was down 17% from last weekend, it did skyrocket a healthy 33% over last year at this time.
With all the Twi-hards making the journey to see Bella and Edward's swan song last weekend, Breaking Dawn Part 2 took an understandable tumble in its second go around with a nearly 70% drop. It easily held the number one spot on 4,070 screens with a solid $43 million to bring its ten-day total to the $226.9 million mark. Since these films are so front-loaded in terms of attendance, the percentage drops per weekend are pretty steep. But with this being the final film in the franchise, Breaking Dawn Part 2 might level out over the next few weeks to cruise to a $295-300 million final domestic tally. The overseas tally stands at a huge $350 million thus far.
Word-of-mouth on the James Bond film Skyfall has been rock solid since its launch three weekends ago, which might explain why it has earned roughly $53 million more thus far than Quantum of Solace did during its entire run four years ago. For its third weekend, Bond, M and Q were off a mere 12% while collecting $36 million on 3,526 screens. The strong holiday frame helped the movie bring its domestic total to a franchise record-setting (pre-inflation) $221 million thus far. Add to that total $568 million from overseas sales and Skyfall could become the first billion dollar Bond film while domestically it could be looking at $280 million final tally. The Skyfall Blu-ray has a tentative release date of March 12, 2013.
Another film benefiting from deservedly strong word-of-mouth is the Steven Spielberg drama Lincoln, which had its biggest weekend yet. How well is word-of-mouth helping the latest Spielberg blockbuster? It's reportedly playing well in both Red and Blue states. Rising 18% over its second weekend, the Fox and Disney hit earned a great $25 million from 2,018 screens for a per-screen average of $12,398 and $62.1 million overall.
Landing in fourth place for the weekend was the first of this weekend's debuts, Dreamworks' pricey 3D-animated feature Rise of the Guardians. The well-reviewed holiday pic landed on 3,653 screens to earn a decent $24 million over the weekend. Since last Wednesday, the $145 million production has earned $32.6 million.
In fifth place was the second of three wide release debuts, the Fox fantasy epic Life of Pi. The critically-acclaimed 3D Ang Lee feature surprised many with its strong showing, which was $22 million for the weekend on 2,902 screens and $30 million since its Wednesday opening.
The final wide opening this weekend was the long-delayed remake of the 1984 film Red Dawn starring Chris Hemsworth and Josh Hutcherson. It was shot several years ago but sat on the shelf when distributor MGM went into bankruptcy. The film's woes continued when the villains were changed – via extensive reshoots – from being Chinese to North Korean in the hopes of placating the ever-growing Chinese film market. Film District took the Thanksgiving weekend as an opportunity to unleash the remake on 2,724 screens. For the weekend, the result was a mild $14.6 million and a seventh place finish, and $22 million total since its Wednesday debut.
Expanding to a moderate 367 screens in its second weekend to land in ninth place was the David O. Russell flick Silver Linings Playbook. The comedy/drama starring Jennifer Lawrence, Bradley Cooper and Robert DeNiro earned a great $4.6 million and a top-ten best per screen average of $12,597. After two weeks, the critically-acclaimed feature has earned $6.4 million very early in its run and will continue to roll out across North America in the upcoming weeks.
The remainder of the top ten is as follows:
6. Wreck-It Ralph (Disney) $16.7 million (-9.8% from last weekend) $149.5 million to date
8. Flight (Paramount) $8.6 million (-2.3%); $74.8 million
10. Argo (Warner Brothers) $3.8 million (-4.2%); $98.1 million
Next weekend, the Brad Pitt crime flick Killing Them Softly and the horror sequel The Collection both debut. Watch for Bella, Bond and Honest Abe to remain exactly where they are right now.
– Shawn Fitzgerald