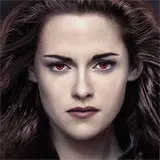 Summit Entertainment has confirmed our earlier news item that The Twilight Saga: Breaking Dawn Part 2 starring Kristen Stewart, Robert Pattinson and Taylor Lautner is coming to Blu-ray and DVD on March 2, the same day Breaking Dawn Part 1 gets its new extended cut on Blu-ray and DVD with eight additional minutes of footage.
There will be no extended cut for Breaking Dawn Part 2, at least for now. There will be the theatrical version presented on Blu-ray in 2.4:1 1080p video and 7.1 DTS-HD Master Audio. The Blu-ray edition will also include a digital copy and UltraViolet (as will the DVD).
Summit has packed in some decent bonus features for the Breaking Dawn Part 2 home video debut. And why not? The film has earned $821.8 million theatrically worldwide to date and continues to tick up. The supplements include the following:
"Forever: Filming Breaking Dawn Part 2" – Seven-part "making of" documentary

Chapter 1: "Rebirth"
Chapter 2: "Renesmee"
Chapter 3: "The Cottage"
Chapter 4: "The Gathering"
Chapter 5: "The Field"
Chapter 6: "The Battle"
Chapter 7: "Forever"

"Two Movies at Once" featurette
"The Forgotten" Green Day music video
"Jump to" features – a montage of fans' favorite scenes with Jacob and Edward
Audio commentary with director Bill Condon
Pre-order information for Breaking Dawn Part 2 on Blu-ray and DVD is forthcoming. You can view the announcement trailer and cover art below.