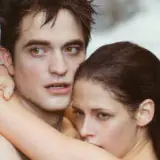 The Twilight Saga: Breaking Dawn Part 1 made its home video debut on Friday night as fans lined up at stores for a chance to get their hands on the Blu-ray or DVD version as they went on sale at midnight release parties around North America.
Lionsgate, who recently purchased Twilight studio Summit Entertainment, expects sales of Breaking Dawn starring Robert Pattinson, Kristen Stewart and Taylor Lautner on disc format to at least meet, if not possibly exceed sales put up by the previous film in the series, Eclipse. In its first 48 hours of availability, roughly 3 millions copies of Eclipse on Blu-ray and DVD were sold. The number of Breaking Dawn Blu-ray and DVD copies shipped is not available, but likely is around the same number made available to retailers for Eclipse.
Looking at the history of Twilight films on Blu-ray, Breaking Dawn Part 1 will have a long way to go if it wants bragging rights for the franchise. The original Twilight has sold approximately 10.7 million copies on home video. The sequel, New Moon have moved 7.5 million, while Eclipse checks in at 7.1 million. If Breaking Dawn Part 1 sales should continue to downward trend of its predecessors, Breaking Dawn Part 2 should have a legitimate chance of reversing the trend as it draws the five-film series to a close.
The first sales numbers for Breaking Dawn on Blu-ray should be available on Monday or early next week.
Watch a Breaking Dawn Part 2 clip that debuted exclusively at Target stores on Friday night.
Source: HMM