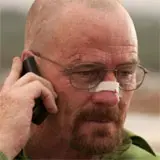 Breaking Bad wrapped up its fourth season with a ratings bang for AMC, making the season as a whole the most successful in the show's four-year existence.
During the finale's first airing on Sunday night, it drew in 1.9 million viewers. By the time two subsequent airings were counting, Breaking Bad had attracted 2.9 million viewers.
Even more impressive than the total numbers of viewers watching the Breaking Bad: Season 4 finale is that 1.8 million of them fell in the advertiser-friendly 18-49 demographic. That's nearly as many total viewers as the first airing.
After the dust settled from the Breaking Bad: Season 4 finale's jaw-dropping final scene, the season had averaged 1.9 million viewers per episode. That's the most of any season to date.
In August, AMC announced a fifth season of Breaking Bad coming in 2012 will be the show's last. After these Season 4 ratings, AMC is probably thinking they would rather have more than 16 episodes to go until the series finale.
Our review of the Breaking Bad: Season 4 is in progress and will be published shortly. Be on the lookout for it.