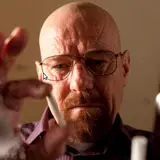 AMC should be popping the bubbly today after Breaking Bad starring Bryan Cranston returned to not only good ratings, but the best the franchise has seen in its four-plus seasons.
In the drama's fifth and final season premiere, Breaking Bad attracted the attention of 2.9 million viewers. The Season 4 premiere came in at 2.6 million viewers which equates to a healthy 14 percent jump in a year's time. Including a second airing at 11:30pm, approximately 3.5 million viewers were curious to see how Breaking Bad's final season will play out.
Digging further into the Breaking Bad: Season 5 premiere ratings, the show scored 1.9 million in the advertiser-friendly 18-49 million demo and 1.8 million in the 25-54 demo. Those are increases of 34 percent and 28 percent, respectively, compared to the Season 4 premiere numbers.
What's most impressive about the Breaking Bad ratings is they managed to set franchise records without all of their broadcasting avenues open for business. AMC and satellite service provider Dish Network are still squabbling over their contract so no Dish subscribers were able to tune in for the continued misadventures of Walter Francis White.
Breaking Bad: Season 5 contines on AMC this upcoming Sunday but won't conclude this year. Eight episodes will air this summer, while the second-half of Season 5 and final eight episodes will not debut until summer 2013.